Smart Camera View 3
Additional Info:
A major upgrade from Smart Camera View 2. While still sharing the same idea as previous version, version 3 actually has been completely rewritten from scratch, based on a brand new algorithm and workflow, for speed and performance, with a lot of new features. This script is intended to replace the default Camera View (C) in 3dsMax with many cool functions.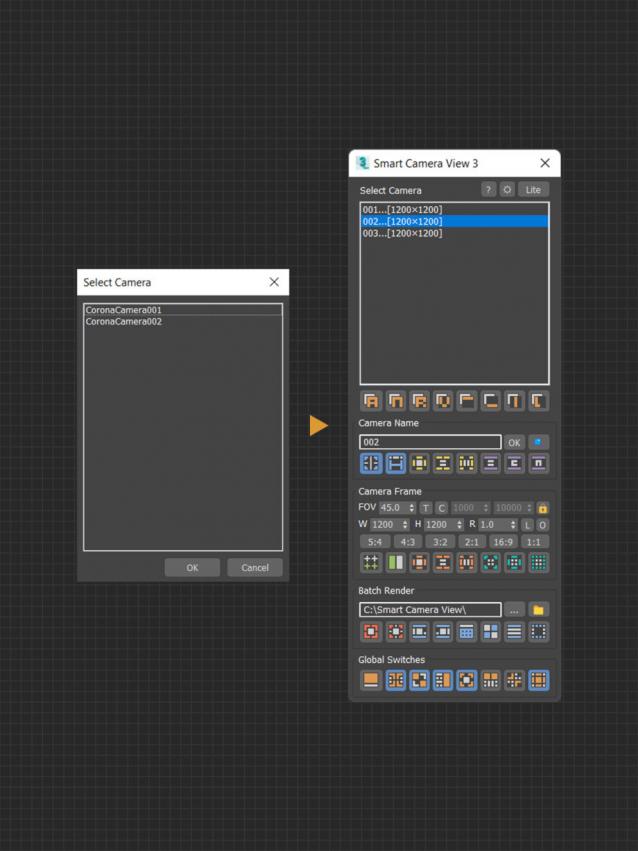 CHANGELOG (LASTED VERSION)
3.24 | 15/08/2022
Added "Dockable Dialog" option: enable to dock scripts in the 3dsMax viewport.
Added "Round Resolution" value information in button tooltip.
Added "Pixel Count Limit" value information in button tooltip.
Added "Monochrome" option: Use monochromatic icon set for scripts.
Added "Lens value" option for Camera Frame in Script System Setting.
Shows the current custom image format in the output folder path (if "Custom Output Format is enabled).
"Save" & "Load" button in Script System Setting is renamed to "Backup" & "Restore".
Clear maxscript listener when start script.
Added and fixed some tooltips.
3.16 | 12/06/2022
Added Camera's FOV and Camera's Clipping properties to Camera Frame Group.
Move the "Toggle Camera Target" & "Lock Camera Tranform" button to Camera Frame group.
Change the "Lock Camera Tranform" text button to icon button.
Removed the "Unknown property" error message with unsupported cameras.
Bring back "Quick Close" option in Script System Setting (enabled by default). Disabled it to restart script when script already open instead close script. It can be useful in some cases, for example - when you use multiple monitors and want to use the shortcut button to bring it to the center of the screen.
Fixed a bug that caused the Ratio (R) spinner to be re-enabled while the Camera Over Scan feature was still active.
Fixed a minor bug in batch render function.
Add and refine some tooltips.
3.09 | 27/05/2022
Fixed a bug that prevented Auto Hide Icon from working with multiple viewports.
Fixed a bug that make Lock Aspect Ratio don't work when change resolution height.
Switch action beetwwen "Set default output path" and "Choose default output path" to avoid the window pop-up when right-clicking. From now on right click will use default output path, and ctrl + click will use to set default output path.
Fixed some missing tooltip.
3.07 | 17/04/2022
Added "Custom Grid" option for "Grid Overlay". Alt + Right Click to set value for custom grid.
Added "Load Icons" option in Script System Setting: enable to load script button icon images on start (enabled by default). Try disabling it if the script is too slow to start or the icons cannot be loaded or if you simply prefer to use text buttons like the old version.
Added a button to toggle Camera's target on and off ("T" button").
Added tooltips for "Lock Camera Tranform" and "Toggle Target Camera" button.
Fixed the script installer runtime error "can't load button images".
Fixed a bug that caused "Grid Overlay" to automatically turn on after setting up the grid mode.
Fixed a bug where changing the height of multiple cameras with "Lock Aspect Ratio" on still caused the camera to lose its aspect ratio.
Bring back Script Installer button in System Setting from version 2.
From now on you can right click on the "Grid Overlay" button to grid color.
From now on you can right click on the "Show Frame Range" button to edit separator character in frame range.
From now on you can right click on the "Show Render Preset" to open Render Setup.
From now on you can shift + click on the "Select All" button to select all camera and it's target as well.
Remove the "Padding Digits" option in Script Settings. To set it in the new version, right click on the "Name Fixer" button in "Global Switches" (the old default settings will be removed so you will need to set them up again).
Small adjustment in script's toolbar icon and button icons.
Rearrange groups in script system settings.
3.02 | 10/04/2022
Bring back Camera Lock Transform function from version 2.
Right click Select All will also deselect camera in the viewport.
Set the indeterminate state of Width, Height and Aspect Ratio spinner on startup to true.
Keep each camera ratio when batch change multi camera width or height with Lock Aspect Ratio enabled.
The Select by Name and Select by Ratio features now allow multiple cameras to be selected.
Fixed a bug that caused the Select All button to not work with Selection Sync.
Fixed a bug that prevented Select Current Active from working with Lock Viewport.
Fixed a bug that prevented Aspect Ratio button can't perform Shift + Click action.
Batch Grab Viewport will now also work with scene state.
Fixed and corrected some tooltips.
3.00 | 03/04/2022
Initial release version.
Completely new user interface with icon buttons.
Script Settings and System Settings are simplified as switches.
Now support for linking the camera to Scene State and Render Preset in Batch Render.
Brand new algorithm, with new workflow: much faster and better, and opens up many opportunities to add more features to the script, fixed all limitations of the old algorithm. Performance can in some cases be increased by thousands of times.
New Lite Mode mechanism for faster switching.
And a lot of features are added in the script.
FULL VIDEO TUTORIAL (ENGSUB)
https://www.youtube.com/playlist?list=PLnEG7O1prNFVJFKihvqH0JoFBefMq0-wn
Version Requirement:
3dsMax 2014 or higher