Snapshot To Shape
Clone object by equal distances on the shape length.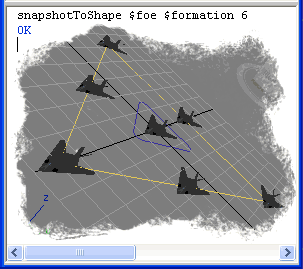 Additional Info:
The reason behind the script is to make independent clones,
ie they do not inherit the source object controllers.
For this purpose underlie procedure inside is
to make temporarily copy of source object and
apply path controller to it and finally
add default position_xyz controller to the new copies.
Features:
Packed as function
Copy any type of objects
Order/snap to any type of shapes
Clone type is optional (default: copy)
Clone types: Copy, Reference, Instance
Undo supported
Help usage is available *
Help is activated automatically When the wrong argument passed
Also Help is available as option in the 2nd (assistance) function
* [ for more details see the video ]
Usage Details:
Script is a pack of 2 functions (not UI).
More flexible without UI (I think so).
Thus have the freedom to decide himself how to
integrate the function to your workflow pipeline.

1st is the Core function
2nd is a walk-through assistance function

You can use the first function alone.
But the second is binded to the fist.
Compatibility:
The script tested on 3ds Max 2009
Update:
Requested UI version (v.1.E)
Added: interface
Removed: help usage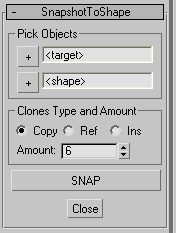 Version Requirement:
3ds Max 2009