The Man Scene Lister
The Man Scene Lister
Switching scenes is just 1- click away..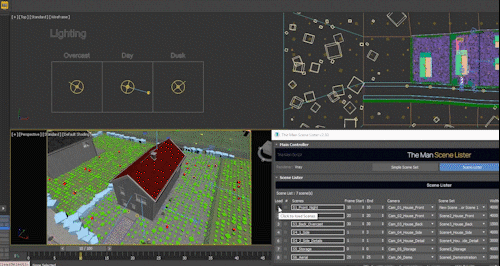 Scene Lister
Switching scenes have never been this easy!
Additional Info:
How to use:
1. Add a new scene by clicking '+' sign.
2. Add a scene name to the scene in the text box.
3. Set the Frame Number. If the Frame Start and Frame End are the same value, it will render still image, if not, the script will automatically switch to animation render.
4. Choose a camera
5. Choose a Scene Set (more on that in Youtube video below).
6. Set the Render Output.
7. Done! Ready to go. Hit the load button to load the scene (the left square button with a number).
8. Do you want more settings? check out the advance settings at the arrow button at the right of each scene. (Tutorial on that in the Youtube video below).
Note! The script runs significantly faster with the Render Settings dialog CLOSED
Features:
Make a list of setups that you want to have in each scene.
Load each of them very easily with the load button. (1 click away)
If you've ever used 'Vray Light Lister' or 'Forest Lister', you'll be familiar with the idea of this script.
The Man Scene Lister Tools give you easy information about Vray Render Settings. Green = Good, Red = Warning!.
Things you might need to know:
Your file needs to be saved somewhere before using the script
This script will create a folder called '_TheManSceneLister' in the same directory as your 3Ds Max file with INI file inside. (In this recent version, you can just delete those things, BUT, I have a plan to make a new script to call out these INI and render different files + different scenes to do Batch Render from many files)
Please don't manually edit the INI file.
If you're confused by the Scene set or Advance settings, there are youtube tutorial videos below explaining how it works.
Compatibility: 3Ds Max 2017+
The script is tested with 3Ds Max 2017, Vray 4.1, and Corona.
For other renderers, you'll enter the 'Experimental' mode, which means that everything is universal, It should work fine, however, if it doesn't, please email me the issue with some screenshot of the problem.
It hasn't been backtested with the previous version of 3Ds Max, so, no promise, it might work, but probably won't work.
Feedback:
Any issue using the script, bug, crash, please feel free to contact me directly at [email protected]
Credits:
The Man Scene Lister script is created entirely by me, TheMan.
Artwork used
- about by Dika Darma from the Noun Project
- rename by Kawalan Icon from the Noun Project
- Refresh by Gregor Cresnar from the Noun Project
- tools by Marie Van den Broeck from the Noun Project
- teapot by Creative Stall from the Noun Project
- mask by Travis Beckham from the Noun Project
- elements by Ralf Schmitzer from the Noun Project
Version Requirement:
3Ds Max 2017+ , Vray 4.3+, Corona