zwischendrin.com HDRI Scene Setup
This tool creates a scene setup for HDRIs downloaded from www.zwischendrin.com and adds a test object (with materials), a camera and uses linear workflow if you like to.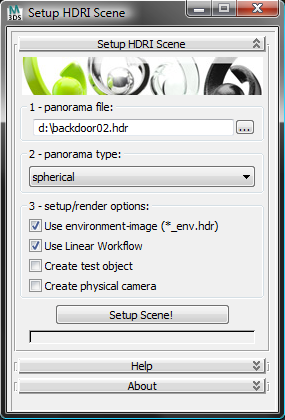 Additional Info:
In 3DsMax run this installer (mzp file) and navigate to your scripts folder to 48design. Run zwischendrin_hdri_setup.mse afterwards. (MacroScript coming up next...)
step 1: select the HDRI to render.
step 2: select spherical or hemispherical type.
step 3: choose setup/render options.
step 4: create scene setup.
Version Requirement:
3ds Max 9
Other Software Required:
VRay