"3ds Max as BIM" project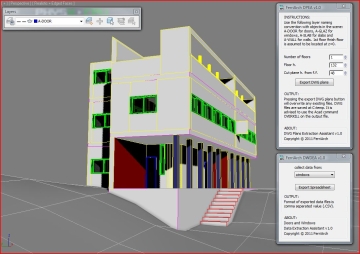 The "3ds Max as BIM" project is an educational tool used to implement Building Information Modeling features within 3ds Max.
Current release includes: DWG Plans Extraction Assistant, Windows and Doors Attributes Assignment (u-factor, fire rating etc...), Windows and Doors Data Extraction to Spreadsheets and walls/slabs/stairs volume data export for material takeoffs.
Download the archive and follow the instructions contained in the readme file. Extract maxscript files and execute them from the maxscript menu or open in maxscript editor, select the code and drag it to a toolbar to make it one of you favorite macros.
The compressed archive includes a sample MAX 2010 file with standard layer scene organization that can be used for testing the scripts.
I hope you will enjoy using 3ds Max as BIM!
Version Requirement:
3ds Max 7 and later releases
Other Software Required:
any spreadsheet software, e. g., openoffice calc