ChannelCleaner
Hello, it's a simple script which make life easier for game-dev 3d artists.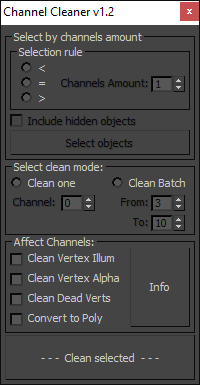 Channel Cleaner:
-Clean selected UV channel
-Clean several UV channels "From: N-channel To: N-channel"
-Clean Vertex Color/Illumination/Alpha channels
-Works with editable poly and mesh
-Works with one and multiple objects
Thats all.
UPDATED to version 1.2:
- Added selection method, now you can select objects which have more than N channels.
- Select option - it's about include hidden objects or not
- Added Clean Dead Verts in Map
-Thanks vScourge from cgTalk thread form 2006 :)
UPDATED to version 1.1:
- thanks Barigazy for code optimization
Enjoy.
Additional Info:
How to install:
1)Copy Channel_cleaner_v1.1.mcr to 3dsmax****/UI/MacroScripts
2)Launch 3dsmax or RunScript
3)Customize menu > Customize User Interface > toolbars or quads or shortcut tab
4)In Category select Titus_Scripts
Thnx.
Version Requirement:
3ds Max 2012+