G-Buffer ID
4 assistant operations for effects tasks which required G-Buffer ID's.
All of them works on selection or all scene objects and support Undo.
Plus Load/Save to log file to backup and restore your G-Buffer ID's settings.
Save also works on selected or all scene objects.
Only Load ops not support Undo.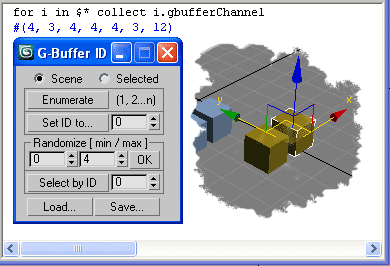 Additional Info:
[-] Script tested on 3ds max 2009 (x32 & x64)
[-] To install as MacroScript (optional) -
read 1st comment line in the code
Version Requirement:
3ds Max 2009