Grab Viewport Plus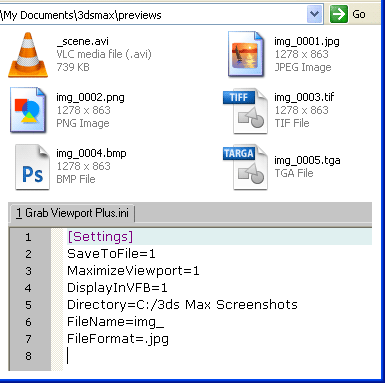 A requested script that add a few options to the standard Max screenshot tool:
incremental save in given folder and prefix name,
+ forced toggle to Expert mode and maximize Viewport.
Additional Info:
Update:
v.1.1 -- directory string bug fixed
v.1.2 -- FiXed: expert mode is only working when viewport is not maximized
Usage Notes:
All script settings are stored in INI file in Max "ui\macroscripts" folder.
[*] Hold Control key while executing to load the INI file for editing.
Yes, I know, the most people prefer GUI where to enter the configs, but
the names of all keys are descriptive, so not the big deal to edit them.
-- their is the default contents of the INI file:
[

Settings

]


SaveToFile=

1


MaximizeViewport=

1


DisplayInVFB=

1


Directory=C:

/

3ds Max Screenshots
FileName=img_
FileFormat=.jpg
First 3 keys are boolean values. 0 = disable , 1 = enable
"SaveToFile"

 

-- enable/disable saving. 




"MaximizeViewport"

 

-- toggle Expert Mode + Maximize Viewport. 




"DisplayInVFB"

 

-- whether to display or not the shot. 




"Directory"

 

-- is the output path. 




"FileName"

 

-- is the base prefix. 




"FileFormat"

 

-- the output file format.
Error handler:
To prevent errors while keeping the code simple, I end with this:
Disable first 3 options by set their value to 0 and
enable them by set their value to 1 (or whatever else different from 0).
If the directory not exist the Max "previews" folder will be used insted,
e.g.: C:\Documents and Settings\USER\My Documents\3dsmax\previews
If "FileName" key is empty, the "img_" will be used by default.
If you set an invalid file format (i.e. that Max not support) then
the JPEG (.jpg) will be used by default.
Installation: Typical/normal macro script installation.
Version Requirement:
3ds Max 9 and higher