GTVFX_Toolbox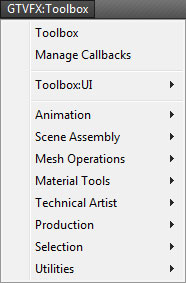 Updates:
===================================================================================
08/16/2014:
v2.34
Some minor bug fixes to the Toolbox. Added additional tools to the system menu.
05/23/2014:
v2.32
Fixed a bug that prevented the system menu from generating.
04/20/2014:
v2.31
Added some new tools to the UI.
Save and Close launches a dialog where you can choose from a selection of options what actions to take after incrementally saving your Max file. (Close Max, Restart Machine, Shutdown Machine)
Select By Nth is a tool to select every Nth object in your selection. You can right-click to launch a gui to choose the Nth amount and some other optiions.
Updated the function for attachiing elements. Had some major slow downs when converting complex Editable_Mesh objects to Editable_Poly. Now the conversoins are minimized and the hole process is leagues faster.
03/05/2014:
Some additional changes to the UI and a few new additions to the tools, both in the rollout and in the floater.
Added a new UI to customize the order of the rollouts on the floater. You can drag-and-drop within the UI to set your preferred order.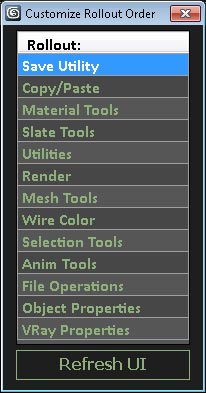 02/07/2014:
Minor updates to the Toolbox Floater. Includes the major updates to external tools setOutOfRangeTypes and createAnimStillsCam.
02/01/2014:
First major version to 2.00. I've completely overhauled the UI in this release making use of Dot Net. I'll be putting together tools to allow for the user to customize the interface themselves. (Change Font, Text height, and reorder the rollouts to suite their needs.)
01/07/2014:
Added a UI option so that the user can choose if the main dialog will initialize on Max StartUp. If the user decides not to have this run at StartUp, the dialog can still be launched from the system menus.
This is a large library of tools combined into a single deployable. The install will create a system menu in Max that has a bunch of tools organized by category. It will also give you the main Toolbox floater which is a huge library of functions with a customizeable interface. You can dock this floater or save it's screen position and size, and save which rollouts are opened and closed.
Any Max artist will find use in these tools. There are tools here for handling incremental saves, camera baking, animation caching, copy and paste, geo transform operations, and so much more. Some of these tools were written pretty recently, but most have been tested and put to use on all the vfx projects I've worked on over the past few years.
Everything is set up with tooltips and lots of error checking to help you along the way. Give the tools a go and let me know what you think.
I'm currently working on a wiki page for all these tools to give an overview of their functionality. I'll update the tools with wiki links as they become available.
For now here is a link to a list of the tools and very brief description for each one.
http://www.gtvfx.com/scripts/GTVFX_Toolbox_ToolList.pdf
If you find any bugs with this tool, if it does not install properly, or one of the functions breaks the script for some reason, please message me with a screen shot and brief description of the error.
All the best,
Additional Info:
To install just drag the download .MZP file into the 3dsmax interface. You should get an Install dialog.