Library Track / Relink...
v0.85:
- new - Resize bitmaps
- new - Favorite folders
- new - Multi-Threaded auto-relink for multiple .max and .mat (material library) files
- Custom Scripts in Re-Save Options
- Batch Proxy Exporter - for multiple max files - VRay / Corona Proxy
- FStorm Converter
- Re-Save options: batch convert scenes with CoronaConverter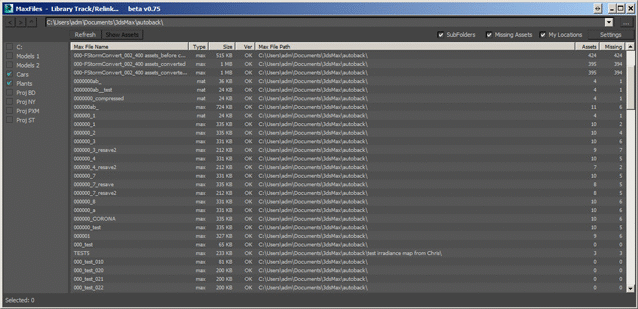 Library Track / Relink... works with Multiple .MAX .MAT files without opening them.
Dedicated to organize, collect or relink whole new model library or all projects after moving them to new location. Just few clicks and they ready to merge / open !
Still beta / test version but most functions works already :
- Find all max, mat files in Selected folder + all subdirectories (eg Library folder). - Search in all my projects took 9s found 5200 max files.
- Get and change all asset paths in multiple files at once without opening them.
- Change / Rename paths (with paths history and rename path prefix eg. change only server/drive letter)
* Choose from path from history (already used paths in current project)
* Pick new path
* Change Drive letter
* Batch rename paths beginning ( drive letter or paths C:\sample\abc\ and rename them to Z:\3d\sample\abc\ )
- Rename selected files on HDD (copy with new name or rename + replace path in max file)
- Sorting files by name, image width, height, file size, path, gamma, texture name, status (Found - network, Found - local, Not found)
- File status ( OK -network, OK - local, Not found ) Status is based on real check if file exist in network or HDD, not from asset manager.
- Move / Copy local files to network with auto path replacing (for distributed / network render)
- Copy selected to one path with path replacing or just copy files - collect selected to project folder or quickly copy+change selected paths to not show your paths structure
- Collect all or selected assets with path structure - similar to max archive
- Collect all assets + root Max file -> creates archive without opening 3ds Max + changing asset paths to relative
- File status in 3 colors -> Found - network, Found - local, Not found ( eg.: easy sort and select all local -> copy selected to network)
- Supports files in IFL - sequence image files - resize / copy / path replace (not in demo version) + rewrite IFL to relative paths
- Script works with all kind of external assets VrayBmpFilter, VrayHDRI, VrayProxy, VrayIES, CoronaIES, Xrefs and much more
- Track, Relink, Collect all Assets inside of Xref files.
- Find and auto relink all "not found" assets. (Only in full version)
- Resize bitmaps
Coming in next versions:
- On auto relink - check if there are multiple files with the same name
v0.85
- resize bitmaps
- show bitmap size / sort by bitmap size
- double click or press Enter on bitmap - open bitmap preview window
- added backup option to to Auto-Relink
- added small help info in Auto-Relink dialog - button "?"
- fixed and faster Multi-threaded Auto-Relink ( still Beta but should be more stable now )
- refresh only changed Max files after Strip paths, Set path, Auto-Relink
v0.80
- tested and fixed options from v0.71 and v0.74
- Point out files with errors in Asset Metadata
v0.74 test
- Favorite folders list - Library folders to search for max files
v0.71 test
- Set Asset Paths from Main window
- Strip Asset Paths from Main window
- Auto-Relink Assets from Main window
- Mutli-threaded auto-relink (testing / beta option)
- My Locations - to skip unkown network paths
- Save settings - List colors, window location and size etc.
v0.65
- new - "Custom Scripts" in Re-Save Options - It opens possibilty to use your custom scripts for Batch Re-Save max files :)
v0.64
- Batch Proxy Exporter - for multiple max files :
- Corona Proxy
- VRay Proxy
v0.62.03 - test version
- test - Batch Proxy Exporter - for multiple max files (only VRay Proxy now)
v0.62.01 - test version
- test - FStorm Converter
- new - folder browse history + max file history (editable dropdownlist in main window)
v0.62
- new re-save options - batch convert scenes with CoronaConverter
- resave with Thumbnalis images
v0.61.01 - test version
- batch convert Max files to CoronaRenderer
- batch convert Material, Lights to Corona in multiple Max files
it uses external CoronaConverter script by Racoon-Artworks
it comes with Corona or can be downloaded from www.racoon-artworks.de
v0.61
- fixed bug/error on first start
v0.60
- Re-Save options:
- change File Gamma
- Rescale the File Objects to Sytem Units Scale -> it recognize your System Unites Scale
- Reset Renderer Settings ( 1st swich to default Scanline than back to current renderer)
- Choose 3ds Max version to save - (always only 3 versions down available)
v0.56
- drag and drop max files or folders to main window (+ Ctrl to add more files)
- strip asset paths from main window (to not check for all network paths)
v0.54
- fixed find / replace in renaming filenames
v0.52
- fixed to resave older .mat files to new version
v0.51
- search for assets in .max .mat files (it should work also with .chr .drf but please test it and let me know)
- fixed double click on image file.
v0.47
- fixed repath for same file name in multiple Max files
- fixed refresh - keep windows on foreground
- added: Show amout of Assets and Missing Assets in Main MaxFiles window - requested by 3dwannab - thanks !
- search and auto-relink for missing assets in multiple Max files
v0.40
- Fixed set path issue in Rename, Copy Selected, Set / Rename path
v0.31
- 2 windows: first list with max files and second with assets
- Rename / Copy with new filenames
v0.27
- check Max file version - if older or newer than 2010
- list shortcuts Ctrl+A, Ctrl+I, Ctrl+D (select all, invert, deselect)
v0.26:
- 3 buttons - Refresh + Back + Get Assets
- double click on max file to Get Assets Info
How to use:
- Choose folder to search for max files (with or without all subfolders)
- Choose max files to show their assets (only one max file in beta) -> Double click or Right-click menu -> Get Assets Info or Button Show Assets
- Right-click menu for more operations.
Note:
None of functions works in demo version. It is only inteface for now
First working versions available on my page for $9:
http://www.pixamoon.com/shop/4587562584/library-track-relink-.../9337230
New - all purchases from pixamoon.com are send automatically in few minutes now !
New - all updates till v2.00 will be send automaticaly too.
All who buy v0.xx or 1.xx will get updates till v2.00
Note for Turbo Squid users:
To activativate your license and get new updates please register your purchese and e-mail first.
This is still not automatic. Please contact me on pixamoon@gmail.com
Free test / demo available here (older v0.31 - it can only show assets in new files):
http://www.turbosquid.com/FullPreview/Index.cfm/ID/891651?referral=pixamoon
To test resize, copy/collect, change/rename and gamma functions check:
http://www.scriptspot.com/3ds-max/scripts/bitmap-tracking-resizing
Thanks for testing and great suggestions to:
3dwannab
magicseed
jpjappers
Let me know what you think. Waiting for all sugestions.
Pixamoon
Re-Save Dialog: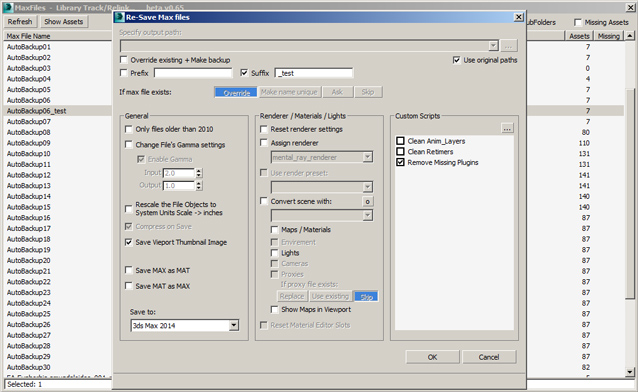 Batch Proxy Exporter: