MatShift
MatShift is a thin pack of ops for shifting materials
between Scene, Material Editor slots and current Library.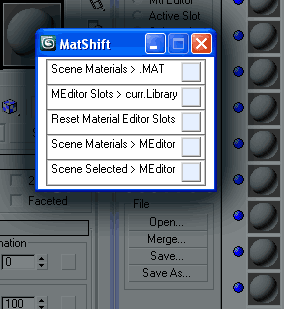 Additional Info:
Combined them with existing Max's built-in ops into MEditor and MBrowser are enough for this kind of tasks. Even "Reset Material Editor Slots" exist into MEditor > Utilities. It slightly change materials names to "Standard_1" and so on. With my ops I restore also materials names like "01 - Default" ... that I prefer. Enjoy the script as is or feel free to modify it.
[-] the script tested on 3ds Max 2009
[-] if you prefer to install the script as macros -
just read 1st comment line inside the code
Update:
v.1.1 added "Scene Selected > MEditor" button that put materials from selected objects to MEditor, starting from current active slot.
Version Requirement:
3ds Max 2009