Prepare Model 3DDD
Requirements : 3Ds Max 2011 and greather, WinRar.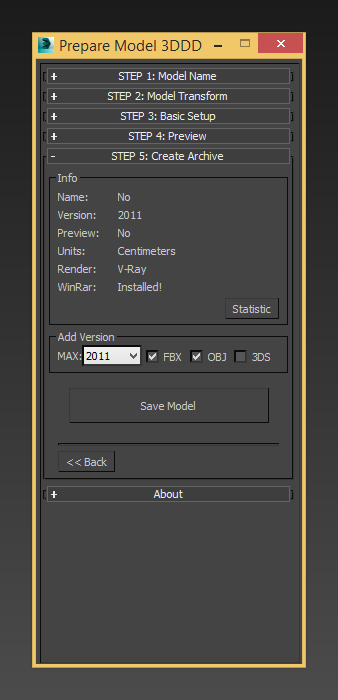 This script helps to prepare model before upload on 3ddd.ru/3dsky.org . With this script you can fast set model in center of scene, do Reset XForm, set pivot, create archive with all textures, and add export formats *.fbx, *obj etc.
Features:
- Reset XForm models (even groups)
- Box Trick models
- Set models in center scene
- Move models in "0" (default) layer
- Rename materials
- Copy textures
- Strip textures paths
- Rename textures same as model name
- Add preview
- Export to *.fbx, *.obj, 3ds
- Save scene in different 3D Max versions
- Statistic
How to use:
1) Drag&Drop script in 3Ds Max window
2) Select models
3) Do next steps:
-Step1: Set model name, check if you want add render name in filename
-Step2: Do Reset XForm of models, set Pivot, set models in center of scene
-Step3: Check if you want rename materials, strip paths, and rename textures
-Step4: Add preview (optional)
-Step5: Select save formats
Press button Save Model, then will be open folder with model archive and show statistic. This statistic you can copy/paste in Description on 3ddd.ru .
Don't forgot check on errors archive and models before upload.
Additional Info:
v.1.0.1
- BugFix: Destroy group when move in center scene
v.1.0.2
+ Added: Now able to add/delete more previews
v.1.0.3
* Small BugFixes
+ Added: Now add info.txt in archive
v.1.1.0
+ Added: Dimesions in statistic
+ Added: Options rollout
+ Added: Manual select winrar path
v.1.2.1
* All checkboxes moved to Step 3
* Moved winrar path select option to Step 3
* Renamed Step 3
+ Added: Box Trick in Step 2
+ Added: Now all settings are savable
+ Added: Remember window position
+ Added: Automatically copy statistic text to clipboard
+ Added: Reset XForm and Box Trick status in statistic
- BugFix: Reset XForm bug
v.1.2.2
+ Added: Button copy in statistic
+ Added: Button in Step 5 for display statistic
+ Added: Option rename objects
+ Added: Option for add *material library (.mat)
+ Added: More info in rollout About
* Code optimization
v.1.2.3
* Replace spaces in model name to "_"
- BugFix: Set many times name for bitmaps in multimaterials
1.3.1
* Fix typo
* Now all textures copy to "maps" directory
* Remove all old materials and presets before export models
+ Added: Support for IRay render
+ Added: Option Remove Layers
+ Added: Tool Tips
+ Added: Corona Bitmap support
- BugFix: Position in Center Scene now works for all objects
- BugFix: Not create archive with Winrar x86
1.3.2
* Now *.fbx, *.obj, *.3ds copy to "export" directory
* Now previews copy to "preview" directory
* Now *.mtl copy to "matlib" directory
+ Added: Supprot 3DS format
+ Added: Success message
1.3.3
+ Added: Save Archive Path option in Step 3
1.3.4
+ Added: Check cyrillic paths
1.3.5
+ Added: Allowed spaces in paths
1.3.6
+ Added: Check cyrillic names in Step 1
- BugFix: Textures paths for instance bitmaps
- BugFix: Can't export FBX
1.3.7
* Small changed in Step 4 UI
- BugFix: Freezed UI in 3Ds Max 2016
- BugFix: Empty FBX file
1.3.8
- BugFix: Empty FBX file again
- BugFix: Problem with relative paths of textures
+ Added: Display Error Log
1.3.9
+ Added: Make Group feature in Step 2
1.4.0
+ Added: Multiselect previews in Select Previews dialog
* BugFix: Display resolution when deleted all previews
1.4.1
- BugFix: Dublicated names in materials
- BugFix: Not rename same textures paths in different multi materials
- BugFix: Display default rener in Statistic after save model
Version Requirement:
2011 and higher
Other Software Required:
WinRar