Push 2
This scripted plug-in was wanted in the forum. It is like the original push modifier but with the option "Straighten Corners" of the shell modifier. You can "push in" and "push out". -- Update V1.4a --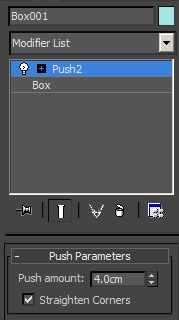 Additional Info:
I finally updated to V1.1 :
-Correction of the reported bug.
Now if you change the topology under the "Push2":
first you will have a strange result but no more crash or error message of the script, then you will just need to update manually the modifier by clicking on "Push2".
I didn't find a way to automatically update without crashing Max (I have the version 2012).
Update V1.2 :
-Corrected the unwanted interaction with the modifiers on top of "Push2".
Update V1.3 :
-Convert the value into world units.
-Modify the name to "Push amount"
Update V1.4 :
-Corrected the bug with error message when applying the modifier to a selection with multiple objects.
Notice a limitation : you cannot instanciate this modifier.
Update V1.4a :
-Corrected a "Compile error" that was reported.
Version Requirement:
2010, 2011, 2012