Auto Render Element "VRayLightSelect"
Create Render Elements "VRayLightSelect" for lights.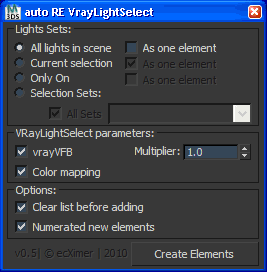 Additional Info:
Installation:
Copy folder "ecXimer" in scripts folder.
Drag&drop in viewport file "Auto_RE_VRayLightSelect_start.ms"
Search in category "ecXimer"
History:
-- v0.1
-- v0.2
Fix bugs;
Add "Parameters".
-- v0.3
Added a new set only for "On" lights;
Added a possibility of clearing the list before adding;
minor bugs fixed.
-- v0.4
Fixed bug: if the Selection sets contained and geometry, it adds a to render elements too;
Small code optimization.
-- v0.5
You can disable indexing elements.
Stored settings for the current session 3dsmax.
-- v0.5.2
Fixed bug: Added to render elements of target lights.
Version Requirement:
Only for V-Ray 2.0 and above.
Other Software Required:
Tested in 3DsMax 2011 x64, but will work on any version of 3DsMax is installed VRay 2.0.