Collect Asset
This script collects textures and other files used in the scene in one folder. Check for the same file names.
It is free script.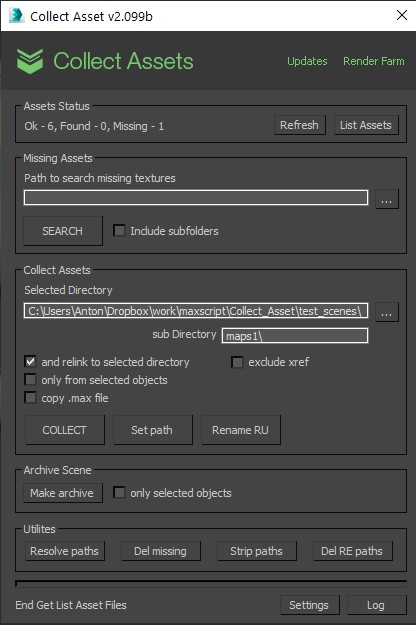 Additional Info: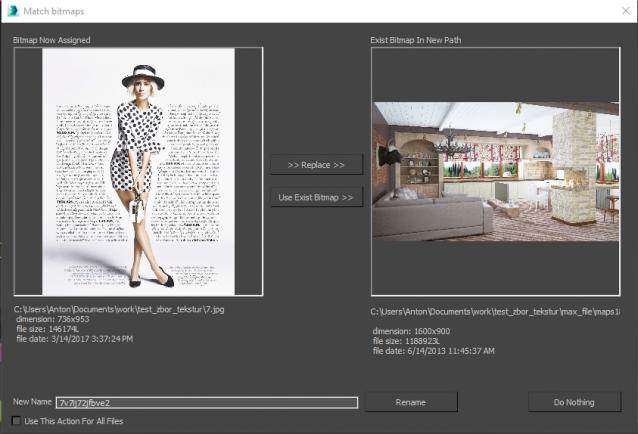 This script work with:
- standart materials
- Vray Render
- Corona Render
- Octane Renderer
- Redshift Render
- FStorm Render
- Final Render
for installing select menu Scripting -> Run script... and select dowloaded file. Find it in Customize -> Customize user interface -> Toolbars. Category: Xiruim.
Tested on 3ds max 2016, 2017, 2018, 2020
contact to me e-mail: [email protected]. skype: anton_mor
You can donate for this script
Для русскоязычных есть тема на форуме http://3ddd.ru/forum/thread/show/skript_collect_asset#
Please write if you find errors
I leave old version of scipt (collect_asset_v1.55) because it use other algoritm and work with standart max Asset Tracking. And in some time it can see files, who not see version v2.x
new in v2.099b
- New installer. Now script installed to "Xiruim" category. Old script will be deleted. You need again create a button on you panel
- Update design. Thanks for this users phil_b and LAS
- In settings you can choise a language for hints. English or Russian.
- add class Redshift Sprite
- add a subfolder field
- fix some errors
new in v2.098
- add option for exclude xref files from collecting
new in v2.097
- add support V-ray volume grid files
- add search missing textures in subfolders
- add button "settings"
new in v2.096
- fix error with DotNet
new in v2.095
- add classes for Red Shift render
new in v2.094
- collect LUT from corona camera
- collect BIP files from Biped Motion Flow
- now with function Collect Files + relink, if files already are present in folder then they will be relinked.
new in v2.092
- add some classes for collecting
- add Button "Del RE Paths"
new in v2.09
- add support Final Render
- fix problems with Redshift
- add BitmapHDR class for collecting
- add Strip paths button
- fix some small issues
new in v2.08
- add support FStorm Render and Redshift Render
new in v2.07
- increase speed collecting assets from lights
- fix some errors
new in v2.06
- fix some errors
new in v2.05
- add function to seek textures
new in v2.04
- add Octane render files
- can collect files from ifl sequence
- can collect point cache
- compare files with identical names by checksum
- increase scan assets speed after operations in script
- add checkbox for automatical repeat action in Match Bitmaps window
- add logging
- fix some errors
new in v2.03 - add function "copy max file"
v2.02 - Write new engine for script. Now not use Asset Tracking. Now script work with map classes as VRayBMPFilter, Camera_Map_Per_Pixel. Work with maps in xref files, collect textures and update xref files.
This version not rewrite older version and install as new script in 3ds max.
v1.55 - add function for rename russian symbols to english in file names
v1.54 - add button "Make Archive". Now can make 7zip or zip archive directly from 3ds max
v1.52, v1.53 - fixes some errors
v1.51 - now can collect from selected objects only
- excludes textures are not used in the scene
v1.5 - now can delete missing paths
v1.4 - fix error with new not saved scene