Collect Asset
This script collects textures and other files used in the scene in one folder. Check for the same file names.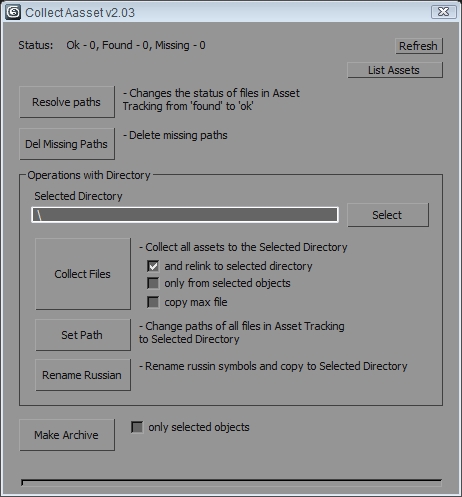 Additional Info: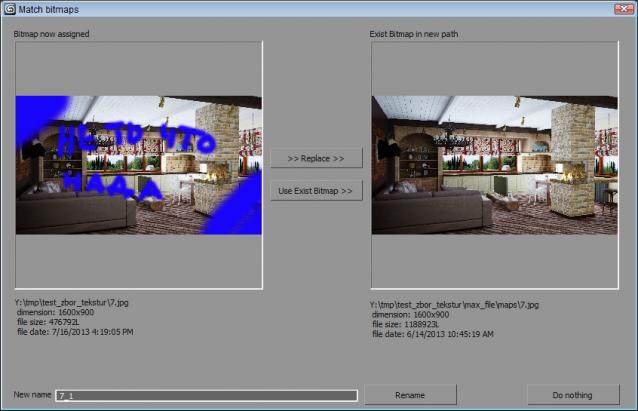 for installing you should drag&drop script into 3ds Max Find it in Customize -> Customize user interface -> Toolbars. Category: # Scripts
Tested on 3ds max 2012 and 2014
Для русскоязычных есть тема на форуме http://3ddd.ru/forum/thread/show/skript_collect_asset#
Please write if you find errors
v2.03 - add function "copy max file"
v2.02 - Write new engine for script. Now not use Asset Tracking. Now script work with map classes as VRayBMPFilter, Camera_Map_Per_Pixel. Work with maps in xref files, collect textures and update xref files.
This version not rewrite older version and install as new script in 3ds max.
v1.55 - add function for rename russian symbols to english in file names
v1.54 - add button "Make Archive". Now can make 7zip or zip archive directly from 3ds max
v1.52, v1.53 - fixes some errors
v1.51 - now can collect from selected objects only
- excludes textures are not used in the scene
v1.5 - now can delete missing paths
v1.4 - fix error with new not saved scene