DesignToolBox - tools for architecture & design

Design Toolbox is a collection of tools specially designed to accelerate and simplify basic modeling tasks for architectural models, furniture design, and other tasks where accurate modeling is needed. Professionals used to CAD or precision software will find it very familiar with some of the included transformation tools, like reference rotation, scale and position, measurement tools and reference guides.
The ability to place snapping points at polylines intersections, visual rulers, fast UVW mapping and random transform, cloning tools, scene management, panel grids, fast pivot placement, and workplanes are some of the tools included, and new ones are added with each update.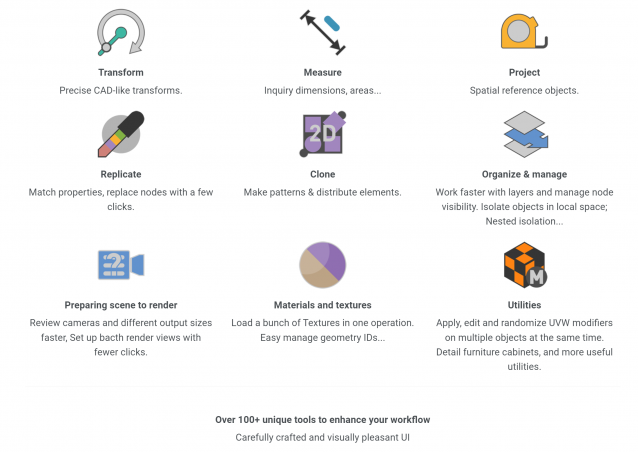 New tools are added periodically, check the complete feature list
Download demo
Additional Info:
Notes
If you are upgrading from refGuides, you will need to uninstall it first. Some files need to be manually removed.
Some features depend on the 3ds Max version. If you are working with a version before 2017, features like custom guide objects will not be available.
This is a commercial script. Some features are not available in the demo version.
If you have any ideas to improve these tools, or some tool you would like, feel free to comment, suggestions are always welcome!
Version Requirement:
2016 x64 - 2023
Other Software Required:
Microsoft .NET 4.8+