DetachPlus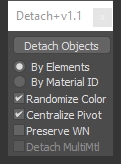 This simple tool allows you to detach Editable Poly objects in a specific way.
Additional Info:
How it works: Just select a single Editable Poly object (without modifiers) and press the button. No need to select in sub-object mode
You can choose two types of detaching method:
#1 by Elements (every element will be detached to a single object)
#2 by Face Material ID (every Face ID group will be detached to a single object)
Additional Options (see tooltips on checkboxes)
*Randomize Color* - add random wirecolor to detached objects
*Centralize Pivot* - place pivot at the center of detached objects
*Preserve WN* - every detached object will preserve Weighted Normals
*Detach MultiMtl* - every object will have assigned original material
NOTE: this option only works with #2 detach method.
This tool is requested on this page page by EricRLA and 1rv
update 1.1 now detached object (by MaterialID) will have name
"Object Name_Material Name_Unique Number"
Version Requirement:
2014+