EffectsChannelSet
Management the Material ID and Objects ID.
Assigning a wirecolor for objects.
Automated creation MultiMatteElement for V-Ray renderer.
Automated creation MatteRenderElement for Mental Ray renderer.
Automate the creation of CMasking_Mask for Corona Renderer.
EffectsChannel v1.64
Fixes an issue with assigning ID to sub-materials in the version 1.62
EffectsChannel v1.62
This version speed-up opening on complex scenes.
The time of opening on a very big scene decreased from 16 sec to 0.094sec.
EffectsChannel v1.60
Adds support to Corona Renderer: Automate creation of CMasking_Mask.
EffectsChannel v1.57
Add support to EffectsChannelEx from Pavel Kuznetsov.
This plugin allows working with Material ID Channel in the range from 0 to 255.
You can download it here Download
if you do not use this plugin the "EffectsChannel" script will be working as previously.
EffectsChannel v1.55
Adds the ability to assign ID to materials by material type.

EffectsChannel v1.50
Adds the ability to render mask for selected objects by materials
Fixes an issue with placing to Medit the VRay materials by effectID
Render Mask for selected objects by materials
This option now available only for vray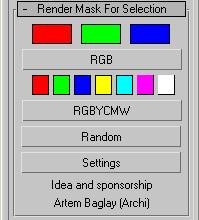 Render a mask for all materials that are present on the selected objects.
If the unselected object have the same material as on the selected,
in this case the mask for him also will be rendered.
In the Random mode the mask is rendered for all objects.
RenderTime and RenderSize equals to current render settings.
See more about rendering mask for selected objects by materials
Additional Info:
The EffectsChannelSet included in KstudioScripts pack.
Version Requirement:
3ds Max 2014 and above
Other Software Required:
Vray, Mental Ray and Corona Renderer