Helper Manager
A support panel containing many methods for adding point or dummy helpers to the scene, as well as options for baking, constraining, linking, duplicating existing hierarchies using helpers, or replacing them with a Bones System.
See online guide in links section.
Features include...
Various methods of helper creation such as: origin, surface, object pivots, picked points, or selected sub-object components.

Ability to add helpers to a selection of objects including; linkage, constraints or baked keys.

Convert existing bindings (hierarchy links, Link Constraints, Pos/Rot constraints) to an alternative type.

Ability to add helpers to (Editable Poly or compatible) sub-object (SO) parts, average centers, or elements - based on either direct SO selection or pre-defined SO selection sets.

A shared size setting used throughout all creation methods, to quickly unify all helper sizes.

Point helper style toggles (axis, cross, box, x).

Toggle display links and trajectories for a selection.

Set the wire colors of selected objects using an interface with a palette of up to 6 colors.

Convert helper types from point to dummy or visa-versa.

Reset scale on a selection.

Link points to dummies via common naming.

Link a selection of objects to the last selected object.

Link a selection of objects into a hierarchy based on their sorted node names. Order can be reversed using CTRL.

Link a selection of objects into a hierarchy based on the order in which they are selected. Order can be reversed using CTRL.

Duplicate an existing hierarchy of objects with new helpers. You can bake keys on the new hierarchy (point or dummy helpers only) to match the animation of the original selected hierarchy. Or instead add constraints to follow the original hierarchy. Optionally add a prefix to the new helper names, or leave blank to match the original hierarchy names.

Constrain a hierarchy based on distance to nearest objects given a distance threshold.

Constrain an existing hierarchy to another similar hierarchy that shares the same pivot locations for each node. This is independent of how the hierarchies are linked or named.

Completely replace an existing hierarchy of helpers with a matching Bones System. Utilizing a separation of CORE bones and EXTRA bones to handle bone lengths.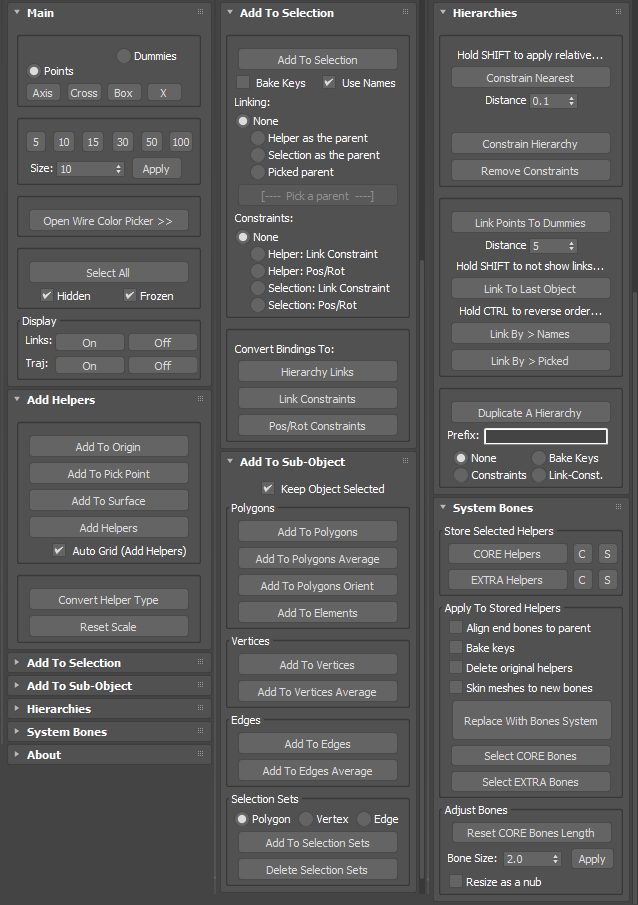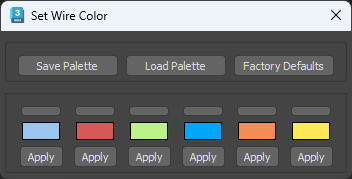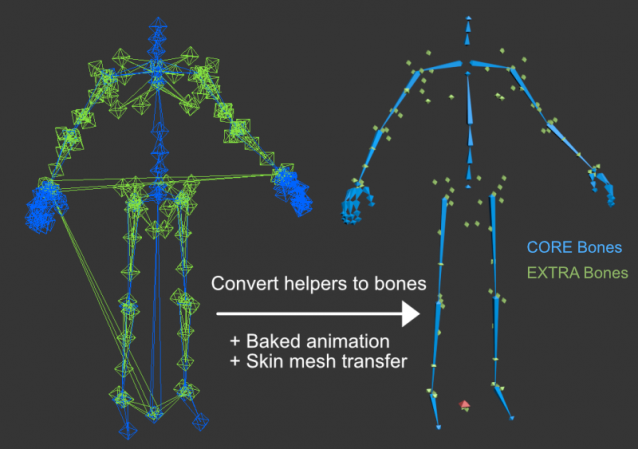 Latest Updates:
Version 2.5;
- Rebuilt how "Replace With Bones System" works and moved it to a new rollout. It now requires a selection of CORE helpers and optional EXTRA helpers to be stored prior to creating the new bones. CORE helpers will convert to bones with parent to child lengths, whereas EXTRA helpers will convert to nubs (length = width). Also added options for reshaping the newly created bones.
- Removed "Replace With Bones" from the Add Helpers rollout, as now redundant with new Replace With Bones System functionality.
- Replaced the wire color picker with a new UI for storing and retrieving a color palette for setting helper or bone system colors.
- Duplicated helpers created with "Duplicate A Hierarchy" will now inherit the wire colors of the original helpers.
Additional Info:
The script can be found in category "LB Tools".
Installation:
Drag the MZP file into your Max viewport.
Files will be copied to...
C:\Users\<userName>\AppData\Local\Autodesk\3dsMax\<maxVersion>\ENU\scripts\startup
and...
C:\Users\<userName>\AppData\Local\Autodesk\3dsMax\<maxVersion>\ENU\usericons
Version Requirement:
3dsmax 2019-2023