Mirror Animation Modifier
Mirror position/rotation animation tool written as modifier.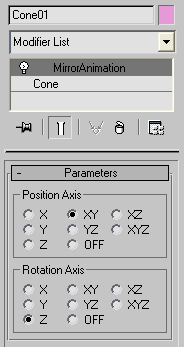 Additional Info:
It seems that it works fine here, but before improve it with other features,
I wish to know how this modifier works for you at this stage.
In other words, any feedback is welcome.
Usage Notes:
Actual turning off is only when "OFF" radio buttons is checked !
New in v.0.4:
Now original keys are restored when delete the modifier
When cloned (and pasted as copy) the modifier is set to "OFF" (for both Pos/Rot)
Keep in mind that this plugin is still beta and very limited ;-)
Version Requirement:
all ((needs AVG for Max 9 and below)