WkXmlLibrary
The purpose of this script is to give an easy and full access to XML files: creation, reading and modifications
It is intented to be used with the same flexibility as a library: instanciate the structure where you need it
in your code and use the member functions to manipulate the XML files.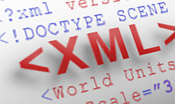 This script strongly relies on the DotNet interface.
Installation:
Copy the folder "Scripts" extracted from the archive (alternatively you can also just copy
the file WkXmlLibrary.ms it contains) to the script folder of 3dsMax (<3dsMax folder>\scripts\)
Use:
A step by step demo is included at the end of the script.
To do it, open the script file in a text editor, go to the end and follow the instructions.
Feedback:
Please feel free to contact me for bugs and feedback at [email protected]
Version Requirement:
From 3dsMax 9 to the most recent release (currently 3dsMax 2011)