After Effects transforms exporter
Here is a free tool for copying animation from 3ds Max into After Effects via the clipboard, and the native AE clipboard data. You will be able to copy and paste keyframe data for position, rotation and scale from 3ds Max onto objects in AE.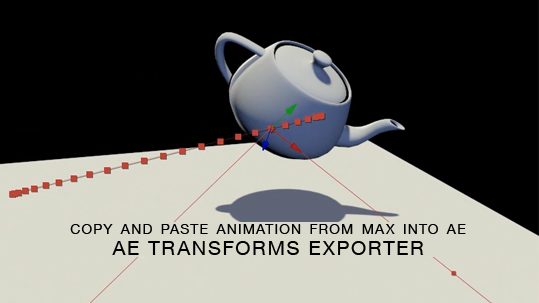 This grew out of the old position exporter from a while ago, and runs significantly faster as well as having extra data channels and a re-vamped UI for quicker use. It also supports custom header and footer information for future versions of After Effects, so this won't need any care, hopefully.
Also if anyone knows of how to make the conversion of the max camera information to the aftereffects camera's focal length, i'd love to incorporate that into the script. Let me know what you think!
v1.01
Added button to copy animated transforms directly to the clipboard, in addition to the previous method of copying from notepad, as well as added some error catching and stability stuff.
v1.02
Never got posted here...
v1.03
Can now export cameras, and do animated FOV on them.
Additional Info:
Just drag and drop to use, the UI should be pretty straightforward, but you can consult the video for an in depth coverage.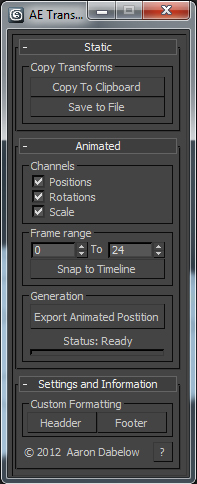 Version Requirement:
9.0+
Other Software Required:
After Effects