Autoweight - Automatic skinning tool for 3ds Max
Autoweight is a script designed for 3D Studio Max helping you speeding up the skinning process of characters and machines.
You define special polygon regions and the script finds the appropriate bones, calculates the appropriate skin-vertices and sets up smooth transitions between those regions.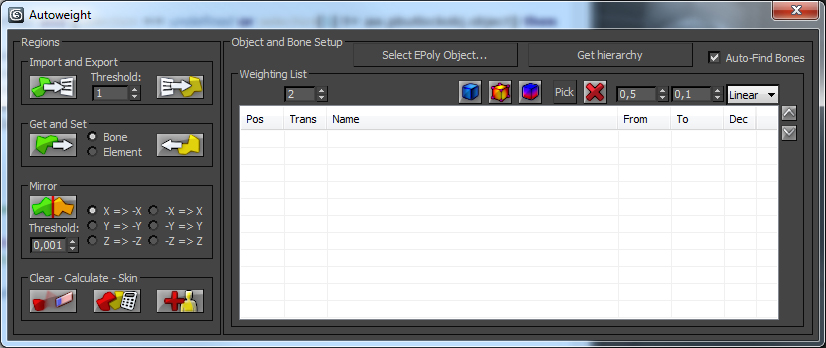 There are also Youtube video tutorials explaining the script step-by-step.
The new version 1.0 comes with an installer so you don't need to hassle around with the mzp-stuff anymore.
After starting 3DS Max you'll find "Kogen Tools" -> "Autoweight" in your "Customize user interface" category when everything went right.
Version 1.0 features:
* Working with Max 2009 - 2015
* Completely rewritten core
* Region Painting
* Customizable bone-falloff-transitions
* View modes
* Import + Export of regions to AWB-files
* Using custom hierachies for bone objects (you're not longer forced to use bones or biped, you can use any object of a provided hierachy).
* Some additional tweaks
Kind regards
ko'gen
Version Requirement:
3DS Max 2009 or greater