Corona Render Elements Manager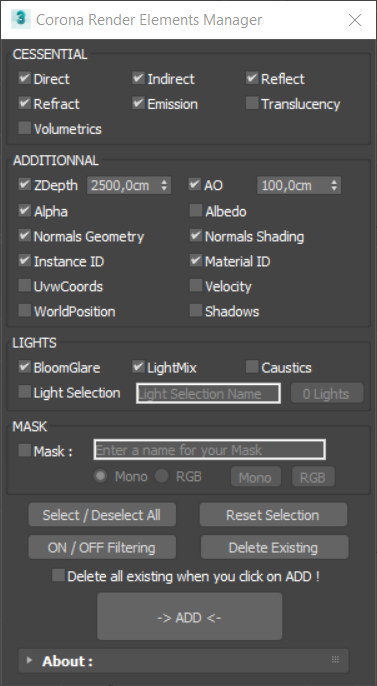 Script Description :
This script is made to automatically add and manage all Corona Render Elements faster.
The script check if CoronaRenderer is installed and switch to the right Renderer (You can't use this script without CoronaRenderer)
The Default selection is made for basic composition. (Result of default selection in preview)
Key features :
You can adjust directly ZDepth and AO max distance Value in the interface with a spinner.
This script add automatically Light_ENV (It's a LightSelect with "Include Environement light" turn ON) and a Light_SUN (Create a LightSelect with Sun if there is a Sun into the scene) when you add LightMix element.
Usage :
You need CoronaRenderer Installed !!
"Caustics" checkbox is enable from Corona 4
"Select / Deselect All" Button : Turn On or OFF All checkbox
"Reset Selection" button : Reset All checkbox to Default
"ON / OFF Filtering" button : Turn On / OFF Filtering of all existing Elements
"Delete Existing" button : Delete All Existing Render Element in setup panel
"Delete all existing Render Elements !" Checker : Delete ALL existing Render Elements when you click on ADD
Install :
- Drag and Drop into your viewport
- Open Custumize -> Custumize User Interface...
- Open Toolbar Tab
- Find into "# Scripts" category
- Drag and Drop the script into your interface
- DONE !!
PS : if you update from previous version restart 3ds max after update and replace the macro in your interface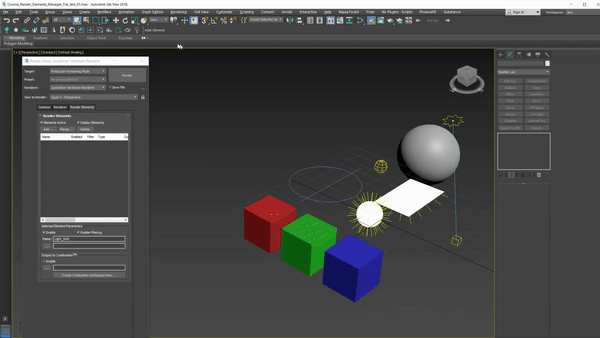 Updates :
v1.03 - Bug Fix / ON-OFF FIltering / Add Mask Monochrome & RGB / Add LightSelect
v1.02 - UI Bug Fix
v1.01 - MacroScript Creation
v1.00 - Initial launch (MaxScript)
Additional Info:
Script tried on 3dsmax 2018 and 2020 and Corona 3 - 4 - 5
Contact me at [email protected] to do feedbacks, will be great for the community !!
Version Requirement:
3dsmax 2018 / 2020
Other Software Required:
CoronaRenderer 3 - 4 - 5