Multi/Sub Object Material Creator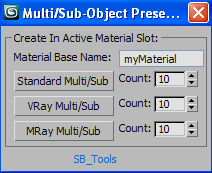 Hi all. Here's my Multi/Sub Object Material Creator.
V.05 Updated UI to a less cumbersome version so it's easier to use. Kudos to Tassel for development)
V.04 Updated to include the option for Mental Ray material preset.
Ui tweaks to seperate the materials It now produces a random colour for each material (thanks to br0t)
Added the option to name your material (thanks to br0t)
V.03 Updated to include Mental Ray materials!
V.02 Update includes options to choose either a standard or a Vray setup.
Here's what i plan to add........
1. The ability to choose a colour range or random colours. ie, black to white, raindow, colour hue's or completely random.
2. Any other suggestions are welcome! Please post your ideas.....
Many thanks to Tassel, br0t and Anubis for their input.
Additional Info:
To install,
1. Unzip the .mcr file to your scripts folder.
2. Unzip the two .bmp files to your 3dsmax\Ui\Icons folder
3. The script can be found in the SB_Tools category on the Customize user interface.
4. Drag the script to a toolbar.
Any problems, please let me know!