Universal Select By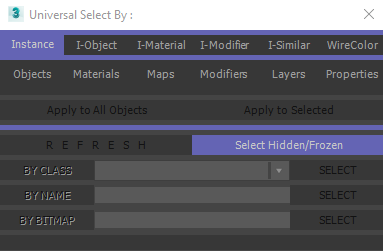 This Script for Selecting Objects By Class Or Name Or Bitmap Name According to 6 Types :
Instance : will selected The Instanced objects by :
- Instanced Objects (I-Objects) , Instanced Materials (I-Material) , Instanced Modifiers (I-Modifier) , Similar , and By WireColor .
* You Need to Press Instance Button to Activate this Buttons .
- OBjects , Materials , Maps , Modifers , Layers , and Properties , Those are Self Explained .
- NOTE1 : On Selecting By Objects you have Option to select objects by Face Count just type in the Text Field the Number of Faces and Press Select Button to Select Objects Larger than this number , OR Number and = for Exact Count , OR Number and < for Less Count .
- NOTE2 : On Selecting By Layer You Can Select By Layer Name Only (from Drop Down List or by Typing Name)
- NOTE3 : On Select By Properties the Options in this Section are to Select Objects only if The Default Property was Changed
(ex: checking Renderable and Search will Select All Objects that have this Property Turned Off) .
UPDATE 1.01 :
- Add Appility to Select Instanced Modifiers with Any Selected ModPanel Stack Modifier .
UPDATE 1.02+ :
The Script was Slow when Selecting Objects , Fixed .

Add VrayBitmap Support .

Make Search By (Name/Bitmap Name) Ignore Case .

Export Global Array According to the Current Search , Name of the Array will be Printed to Listener (USB_*) .

Some Functions Enhancement and Fixes .

Detect Slate/Compact Material Editor .