Architecture to Standard Material Converter
This macroscript converts Architectural materials to Standard materials for use with VR exporters that require this setup.
To install:
- Run the script using MaxScript -> Run Script or drag the attached .MCR macroscript into Max
- Customize -> Customize user interface -> Toolbar
- From the "# SmallpolyScripts" category, add Architecture Standard Converter
One of my next steps is to add in the now-fixed functionality of my Autodesk_Bitmap to Bitmap converter script, found as a general use stand-alone script here.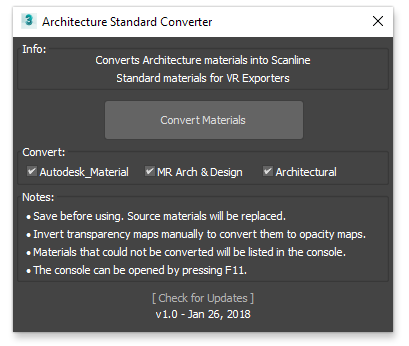 Category: "# SmallpolyScripts" ButtonText: "ArchStd" ToolTip: "Architecture Standard Converter"
Additional Info:
----- Change Log -----
2018-02-02 - v1.00
- Now a macroscript. Minor UI Tweaks.
2018-01-26 - v0.9
- Used felixherder's input to fix the material instancing problem.
- Replacing alertbox based UI with actual rollout based UI
- Adding greater map support and filtering based on material type
- Fixed "acitecture" typo
2016-12-19 - v0.8
- Bugfix: Keeping the name should now work for multi-materials as well.
Version Requirement:
Max 2012-2018 Or Higher