Cleaner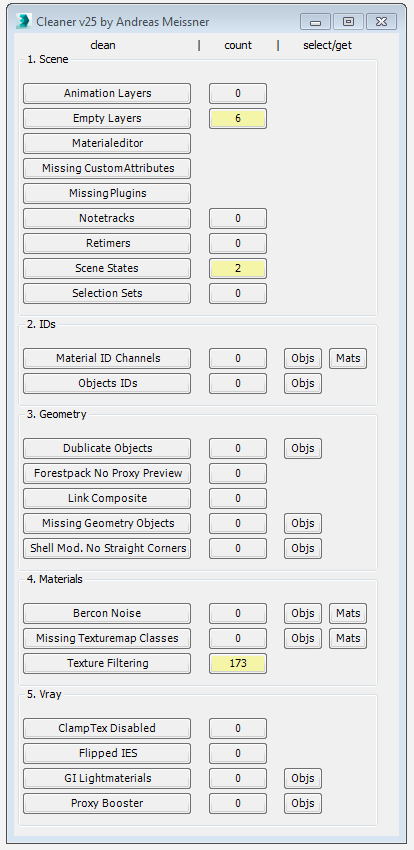 This tool can help you to clean and speed up your scene. Hover with your cursor over the clean-buttons to see tooltips for further information.
Additional Info:
Installation:
Drag and drop the file "install macro.ms" into your scene
You can create a toolbar button by using the macro under: Customize > Category: "# Scripts" > Cleaner
Tips:
If you look inside the folder .../Cleaner/clean/deactivated/... you can find further functions. To use them you need to move them into the folder .../Cleaner/clean/...
Before cleaning dublicate objects, you should select and isolate these objects to check if they are really dublicates!
The "Texture Filtering" will speed up your rendering cause textures like leafes, flowers and ivys will be set to filtering:none, but this will change the look of your rendering, use with care!
WARNING: I DONT GIVE ANY WARRANTY, USE AT OWN RISK, BETTER SAVE SCENE BEFORE USE
Version Requirement:
tested in 2009, 2012 with Vray, 2015 with Vray