SolidRocks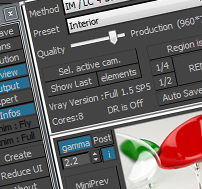 SolidRocks V2 is out !! Support for MAX 2010-2017, And Latest V-Ray 3.5 ! Rebus Farm/RANCH Computing interoperability
New presets for Vray 3.5 : Now render better AND faster !
Vray 3.5 is now managed into this new SolidRocks.

SolidRocks adjusts and optimise all needed Vray parameters to reach the best rendertime/quality ratio.
Learn Vray progressively, see in realtime changes made by SolidRocks when you change resolution/quality.
SR V2 includes new tools for both VrayMasters and Beginners:
Support for Max 2017 and Vray 3.5!
New Vray 3.5 IPR button
New Vray 3.5 Adaptive Lights option
New Vray 3.4 Denoiser button
Simple gamma : Srgb or User, that's all !
New Store direct light option (on by deafult). Render WAY faster !
New "NO GI" method ! Perfect for exterior dome(+sun)+VrayAmbientlight anim setup (fast and flicker free)
Compatible with MAX 2017 Physical Cameras
Optimized presets. SolidRocks now render Faster AND better !

Better glossy subdivs algorithm. Materials with low glossiness value have more subdivs.
SRGB button (Vray VFB) is now managed automatically.
New special DOF/motion blur preset (based on interior preset, experimental)
New V-Ray 3 optimisations: Progressive AA, Embree, Probalistic lights, Max Ray intensity...
New Unified Save feature for easy save management
New BruteForce/BruteForce method , full power with V-Ray 3 !
New RT button (Max 2013 and 2014 only) for easy one clic RT launch !
Now Includes MOA Wizard (animation wizard) - More info here !
New DR and BB buttons

for network rendering



FlyThrough animation Wizard !
Compatible with SigerShaders
1 click process for complete Vray setup !
Modular and small interface (GUI)
mini preview for fast feedback
auto Exposure and Auto White balance tools
friendly and Very simple usage
Full LWF gamma correction with useful options
modifiable presets : exterior, interior...
learn Vray watching SolidRocks at work !
shareLightcache tool to speedup slaves warmup
materials and lights optimisation for best rendertimes
switch from draft to production settings in one click !
gain time... Lot of time !!
New Vray users can also learn essential rules of Vray, observing changes made by SolidRocks when resolution and/or quality are changed.
Vray Masters can customise SR and presets and use SolidRocks as a custom settings automator.
note : This is a commercial script. (FREE LITE version available on website !)
As always, Have FUN with SolidRocks !
Version Requirement:
Max 2010 to max2017 and V-Ray 2.0 to Vray Adv 3.5 !