TerrainAxe
TerrainAxe : modeling accurately your terrain landscape
A toolkits really be used to modle accurately terrain landscape ,such as making roads , flyovers and bridges,stairs or pavements on terrain ,hacking clearings, placing handrails,
TerrainAxe is powerful yet easy to use,which can greatly shorten your modeling time,optimize your models and lay out excellent topology.
Tools of TerrainAxe are fall into several categories:
Selection tools:quick selection tools for vertiecs ,edges and face,such as select a part of border by two vertices.
creating tools:Fast model creation tools ,such as curb ,runline,stair,handrials,pavements pieces
construct tools :change the construct of model ,such as smooth road,round vertices, weld vertices to edges, poly stitching.
cutting tools: Lay out topology lines,such as grid-cutting polygons,connect two teams of vertices,
scenes tools :Such as creating runlines ,use AdvArray to create handrails,piers,trees,street lamps.
common tools:some common tools ,such as copy and paste objects,one key import dwg file,
Material and rendering related tools: tools for manage materials
UV tools:UVW mapping tools , typical such as UVW mapping for complex road.
A tutorial and its 3dsmax file were also provided,Basic Tutorial—Make Roads Through Terrain.
Additional Info:
Updates (January 30,2018)
SMRoad tools can use face selection to smooth road;
A new SMRoad tool ,SMRoad(Diff),can separately smooth each side of a road;
An option "Auto load' was added in UIMan,with which you can choose not to run TerrainAxe when 3dsmax starting;
To create road marks for some contries like England,an option "Left dirive" was appened in RoadlineSys.As a result ,you can place some road marks on the left side of the road.
10.23 Help documents updated,visit http://www.flyingcfx.com/help for help.Although it is not good enough,but I will append more content and make it better.
Updates (September 6,2017)
RoadlineSys ,a tool used to create roadines ,zebra lines and oriented arrow,was updated.But the tool has never been introduced before.Meanwhile, the document of RoadlineSys was published Here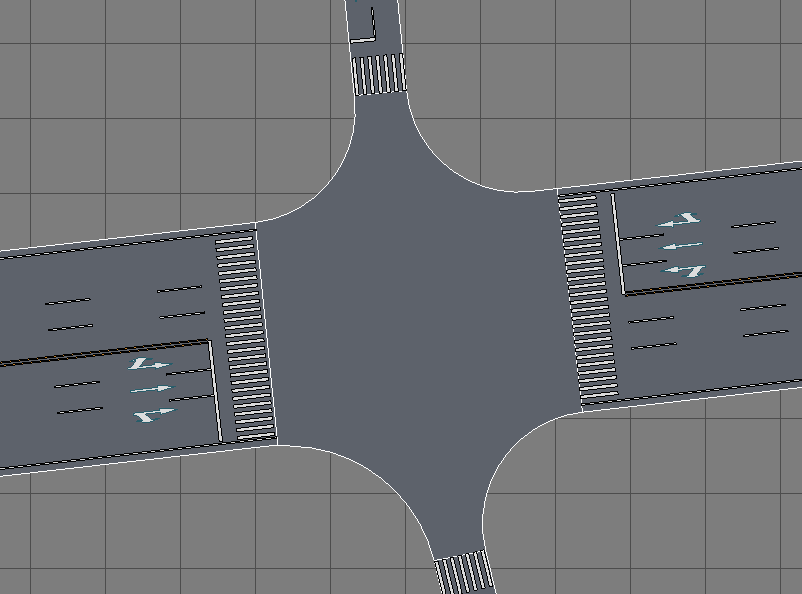 Updates (June 23,2017)
There is a big change in PiecePoly ,a new algorithm shorten greatly creating time.In test ,with the same scene, it takes around 32 seconds to complete piecing in previous version,but only need 5 ~6 seconds in the new version.And the parameters were decreased , this make UI more clear and easier to understand. For more details ,please refer to the page:http://www.flyingcfx.com/help/index.php?tool_id=55
Updates (April 25,2017)
A new selection tool ,SameDirFaces,was added,which can select faces that has same normal as selected face
RoadlineSys:
Road Width parameter can be got after creating road lines.
The width of road shoulder can be adjusted
One way road lines can be chosen , median width can be adjusted.
Fixed a bug that make road lines creating failing at top level of sub-objects.
ClearDupShps,fixed a bug that duplicated splines can't be cleared.
MoveOnDir can work normally.
AdvArray: The mid-points of ring edges can be used as path to array objects.
CapEdges:Before,the new polygon can't be created if endpoints of border share on same edge,but now can.
MoveVerts:Supplied an option to ignore border vertices when moving vertices.
Web license type :fixed a bug that can cause TerrainAxe disable when another new 3dsmax window is opened.
NOTE THAT: The demo reel video is NEW!
Version Requirement:
3ds max 9-2017(need sp2 for 9 and 2012)