Material Converter - Lumion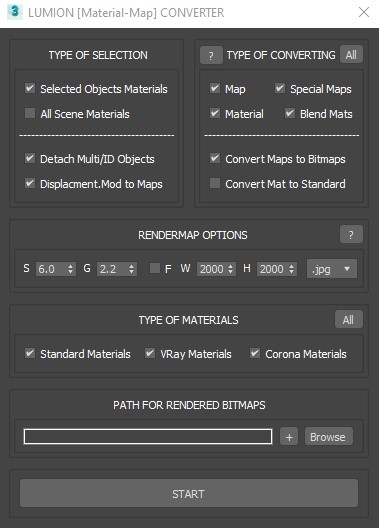 This Script is Aimed to :
1- Detach All Objects with Multi/Sub object Materials to Elements by ID and Assign the Proper Material (this Step is necessary because the Script will not Handle any Multi/Sub Materials).
2- Replacing Any Displacment Modifier with Displacement Map.
3- Converting (Almost :) ) All Type of Maps to Rendered Bitmaps with Options for Output (Better to Test the Scale for Procedural Maps and Gamma on Some Objects Before Converting the Scene).
4- Convert All Type of Color Maps Like Color Correction..... (with Empty Slots) to Color (Diffuse-Reflection......).
5- Convert any Type of Blend Materials into Standard or VRayMtl or Corona Mtl Materials (the Accuracy is as good as possible).
6- Convert All Materials to Standard.
List of Supported Maps :
Rendered Maps:
(CompositeTexturemap, ColorCorrection, ColorCorrect, output, Mix, Bricks, Noise, VRayCompTex, VRayNoiseTex, VRaySoftbox, VRayTriplanarTex, VRayUserColor, VRayUserScalar CoronaMix, CoronaUvwRandomizer, CoronaTonemapControl, CoronaWire, CoronaColorCorrect, Smoke, Gradient_Ramp, Cellular, Checker, Dent, Gradient, BerconTile, BerconNoise, BerconMapping, BerconWood, Color_Replace, Mask, RGB_Multiply, RGB_Tint, Speckle, Splat, Stucco, SigerScratches, ShapeMap, AdvancedWood, Marble, TextMap).
Converted Maps:
(falloff, SigerComplexFresnel, Normal_Bump, VRayHDRI, VRayDirt, VRayColor, VRayNormalMap, VRayMultiSubTex, CoronaAO, CoronaColor, CoronaBitmap, CoronaNormal, CoronaRoundEdges, CoronaMultiMap).
Notes:
1- for Now Multi/Sub Maps Like (VRayMultiSubTex and CoronaMultiMap) will be Replaced with the First Slot (Map or Color(if Map is Empty).
2- for SigerComplexFresnel Map only Presets is Supported (Custom Color not Supported).
To Do List : - Apply to Specific Class of Maps and Materials.
Updated : Convert Maps to Bitmaps Checkbox Now Working Properly (Render Maps to Bitmaps).
UPDATE Version 1.1 :
Fixed Some Bugs in The Script .
UPDATE Version 1.2 :
- Converting CoronaBitmap not Working Properly ---- Fixed
(Thanks to slider17 for Reporting this issue)
- Max not Responding When the Script Throw Errors ---- Fixed
UPDATE Version 1.21 :
- The Script Now Convert VRayHDRI and CoronaBitmap Maps with RenderMap instead of Replacing it with SubMap (Thanks to AmmarShow for Feedbacks) .
UPDATE Version 1.22 :
The Script Now is Free for all .
UPDATE Version 1.23 :
- The Maps not Converted to Bitmaps after Converting Blend (VRay-Corona-Standard) Materials FIXED .