Project Manager
Project Manager - Asset Browser for 3ds Max
Easy to organize and use 3ds Max models, materials, textures and lights.
Interactive rendering previews for materials and IES files.
Show native previews for 3ds Max files, HDRI & etc.
Search files by tags and file-names.
Missing external files management.
Support to most used renderers like Vray, Corona, Octane, Mental Ray, Maxwell & etc.
Changes for Project Manager v.2.60.27:
Adds the ability to working with assets of material library directly from opened library.
Adds the ability to working with assets of 3ds Max files directly from "Explorer" tab without opening file.
Adds support to FStormRender – merging Proxy, creating IES and FStorm materials.
Adds an ability to play animation for .bip files.
Adds the menu item "Save Material From Material Library".
Adds a "VRmesh Viewer" to list of "Programs" on toolbar.*
Increase speed of merging models with missing network maps.
Now the list of sceneMaterials and meditMaterials refreshes automatically after loading a new scene.
Adds the ability to select into delete dialog which dependent files will be removed with main asset.
Adds a menu item "Strip Paths" to "Asset Files" context menu.
Adds a menu item "Reveal in Windows Explorer" to Material TreeView context menu.
Optimizations and speed improvements for searching files.
Fixes an issue with creating an Octane Proxy with Octane Renderer 3.xx.
Fixes an issue with detecting a compatible renderer for materials.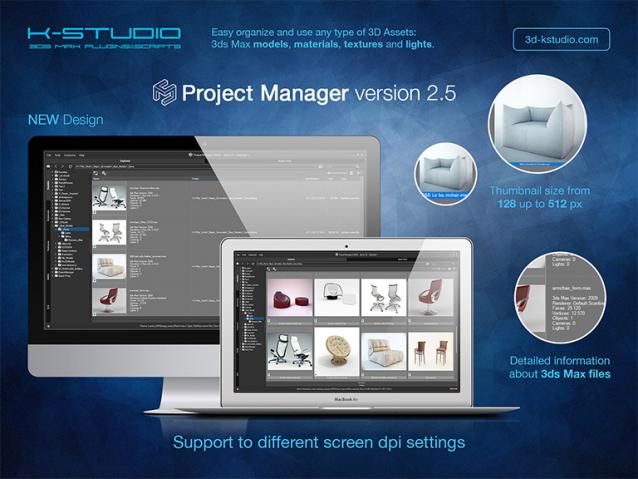 Update History for all versions.
| | | | | | |
| --- | --- | --- | --- | --- | --- |
| Models | Materials | Textures | HDRI | IES | Asset Files |
---
Quick Start
Frequently Asked Questions
Main Features
Simple adding the models, materials, textures and IES into the scene
Cataloging libraries of models, materials, textures and IES
Sync database on network. [*

new

]
Full support to all types of Drag&Drop (Cataloging, merging, apply materials & etc.)
Displays thumbnails for Bitmaps, 3d models, Proxy, IES, Material Libraries and other file-types (include formats HDR, EXR, PSD and other)
Ability to exclude from Merging unwanted objects
Ability to auto-fix Texture paths for merged objects on the fly
Replacement scene objects by other objects
Automatic conversion the merging models to the proxy
Saving the models and materials with maps
Saving the Proxy with materials
Save/Restore Materials with modifiers
Support to Slate Material Editor
Search files by name, description and tags.
Display of embedded thumbnails in 3ds max and AutoCad files.
Asset Tracking
Search for missing assets
Relink external files
Collect external files
Archiving a 3ds Max scene [*

new

]
Ability to exclude files from collecting by type of file
Rename the links by mask
Removing the maps from scene
Selecting the objects by their links to files
Displays in interactive mode a list of files linked to selected objects
Place Materials and BitmapTextures into the Material Editor
Show/Hide bitmap in viewport
Opening the files into the external application.
Ability to collect the Asset files via clipboard and drag&drop method
Include the "Batch Render&Relink" tool for organize the Asset files into the 3d Models and Materials Libraries in the batch mode
Support to xRef files.
Misc Features
Support to almost all known renderers and plug-ins.
Unostentatious and "Transparent" the demo-version
Ability to back-up settings before reinstalling 3ds Max or Windows
Autocheck for updates
User-Friendly interface
Usability Default Setting
Additional Info:
This is a commercial script.

Wishlist for future versions.
Ability to render preview as .png with alpha channel (idea by David Le Cardinal) [ready!]
Search and Description for 3d models (idea by Claus Mindermann) [ready!]
Search and Description for materials (idea by Ralf Jaskulki)
Preservation of materials with modifiers [ready!]
Custom studio for materials and models [ready!]
Show materials in tree [ready!]
Using a single database on a network. [ready!]
Mass rename the asset links and files on hard drive. (idea by Dmitriy Tereshchuk)
Use regex and the simple patterns to refine the search files.(idea by Sorvin Sergey) [ready!]
Search images by color. (idea by Oleg Budeanu)
Note: Please use latest updates for your version of 3ds max
3ds Max Updates & Service Packs
3ds Max Design Updates & Service Packs
Known Issues:
3ds max 2010 does not correctly work with files and folders that contain non-unicode characters(Russian, Chine).
Demo-version:


Demo version allows to work only with non-strikeout files.
Version Requirement:
3ds Max 2010 and above (32 and 64 bits)