Project Manager
There is most unique from them – the ability to assign custom previews to materials, associate files with materials, and create a gallery of files associated with any type of assets including materials.
You can also write a description for material and, of course, assign categories to materials.
Drastically speeds up opening directories
Speeds up file search
Speeds up showing files from sub-folders
You can now Batch Archive 3Ds Max files and Material Libraries with assets
Adds the ability to paste and drag&drop multiple directories
Move to Top Level command now supports multiple directories
Move Above/Below command now supports multiple directories
Adds support for animated FBX models (experimental)
Speeds up caching of JPG and PNG images
Assign Material dialog box is now shown when dragging/dropping a material onto multiple nodes
Adds partial support for paths longer than 256 characters
Adds a new API callback - #PreProcess
Fixes an issue with searching for assets in Categories
Fixes an issue with converting 3D models to Final Render proxies
Fixes a minor issue with merging some Max files
Fixes an issue displaying embedded thumbnails for Revit, SketchUp, and some other 3D formats
Fixes an issue with previewing of Substance SBSAR files
Fixes a bug that caused Max to crash when trying to render corrupted IES photometric files
Fixes an issue with assigning HDRs to light by dragging them to the viewport
Fixes an issue with renaming links to xRef scenes using Advanced Asset Renamer
Fixes a bug during relinking and collecting assets
Fixes an issue with relinking paths longer than 256 characters
Fixes an issue with opening a preview window for files using UNC path
Fixes some minor interface issues
Performance optimizations and speed improvements
Adds an ability to batch rename Materials
Allows to setup desired view for studios without a camera on rendering previews for models
Adds support to MySQL databases that installed on Linux
Some optimizations on plugin activation
Fixes an issue with creating material on dragging bitmap to Multi-Material
Fixes an issue with adding comments and assign Categories to materials
Fixes an issue with relinking OSLMap
Fixes an issue with colorizing sub-directories
Fixes other some minor issues
Adds an ability to create a dome light on drop HDRI files onto viewport for Redshift, Octane, Final, FStorm and Arnold renderers (VRay dome already supported)
Uses a spherical type as default for texture maps that are used in an environment or dome light
Adds an ability to convert images to TX format [Convert Images tool]
Extends the search options in the Categories. (See the "Categories" option in the "Search options")
Some other optimizations and speed improvements
Update History for all versions.
| | | |
| --- | --- | --- |
| Models | Materials | |
| Textures | IES | Asset Files |
---
Quick Start Frequently Asked Questions
Main Features
Easy to organize and use 3ds Max Models, Materials, Textures and IES Photometric Lights.
Merge Models, Materials, Bitmaps and IES using Drag& Drop.
Store/Create Proxy with materials.
Interactive rendering previews for Materials, IES Photometric, BVH Motion capture, FBX, OBJ, 3DS and other such 3d files.
Show native previews for 3ds Max files, ArchVision RPC, GrowFx, Revit, Substance, BIP motion, SketchUp, Revit, HDRI & etc.
Create PBR (Physically Based Rendering) materials
Support to Substance textures
Search files by tags and file-names.
Power Asset Tracking Management.
Support to most used renderers like V-Ray, Corona, Octane, Mental Ray, Maxwell & etc.
Project Manager's Features in Infographic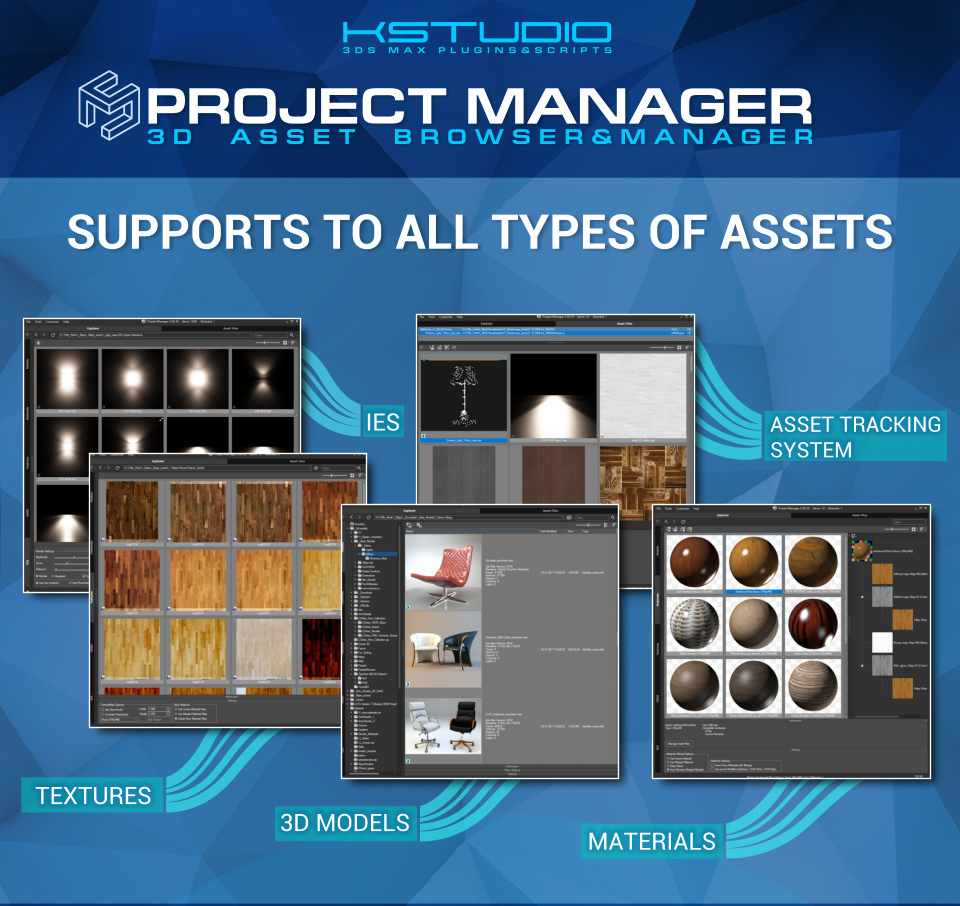 Version Requirement:
3ds Max 2014-2022