Project Manager
3rd version of Project Manager gains a lot of new features for management 3D Assets.
There is most unique from them – the ability to assign custom previews to materials, associate files with materials, and create a gallery of files associated with any type of assets including materials.
You can also write a description for material and, of course, add materials to favorites.
Customers of 2nd version can upgrade to 3rd version with discount
New "Fast mode" for relinking 3ds Max files and material libraries in the batch mode
Ability to search associated previews using fuzzy searching ["Auto-Assign Preview"]
Ability to modify suffix for parent files for searching preview files in the "Auto-Assign Preview" dialog
Fixes an issue with display thumbnails for some materials
Fixes an issue with rendering thumbnails for some models using custom studio
Fixes some issues with auto-assigning preview
Fixes an issue with show materials in a separate window in version 3.08.74
Fixes an issue with re-using scene materials when merging materials with the option "Use Scene Material"
Fixes an issue with batch exporting some 3d files using the menu item "Export to:"
Adds an ability to specify the number of levels for searching preview files in the "Auto-Assign Preview" dialog
Adds an ability to specify several Favorites to several items at once
Adds an ability to specify the number of points for preview Arnold Proxy
Adds an ability to Clear Gallery for selected items
Speeds up merging models to complex scenes
Extends an ability to customize interface: now customer can add some menu-items to toolbar
Adds an ability to assign shortcuts to some menu-items from the menu ( supported to CTRL, ALT + letters or numbers )
Fixes an issue with interactive rendering 3d files in a separate window for 3ds Max versions below 2019
Fixes an issue with paste and drag directories into virtual Catalogs
Fixes potential issues with asset view dialog
Update History for all versions.
| | | |
| --- | --- | --- |
| Models | Materials | |
| Textures | IES | Asset Files |
---
Quick Start Frequently Asked Questions
Main Features
Easy to organize and use 3ds Max Models, Materials, Textures and IES Photometric Lights.
Merge Models, Materials, Bitmaps and IES using Drag& Drop.
Store/Create Proxy with materials.
Interactive rendering previews for Materials, IES Photometric, BVH Motion capture, FBX, OBJ, 3DS and other such 3d files.
Show native previews for 3ds Max files, ArchVision RPC, GrowFx, Revit, Substance, BIP motion, SketchUp, Revit, HDRI & etc.
Support to Substance textures
Search files by tags and file-names.
Power Asset Tracking Management.
Support to most used renderers like V-Ray, Corona, Octane, Mental Ray, Maxwell & etc.
Project Manager's Features in Infographic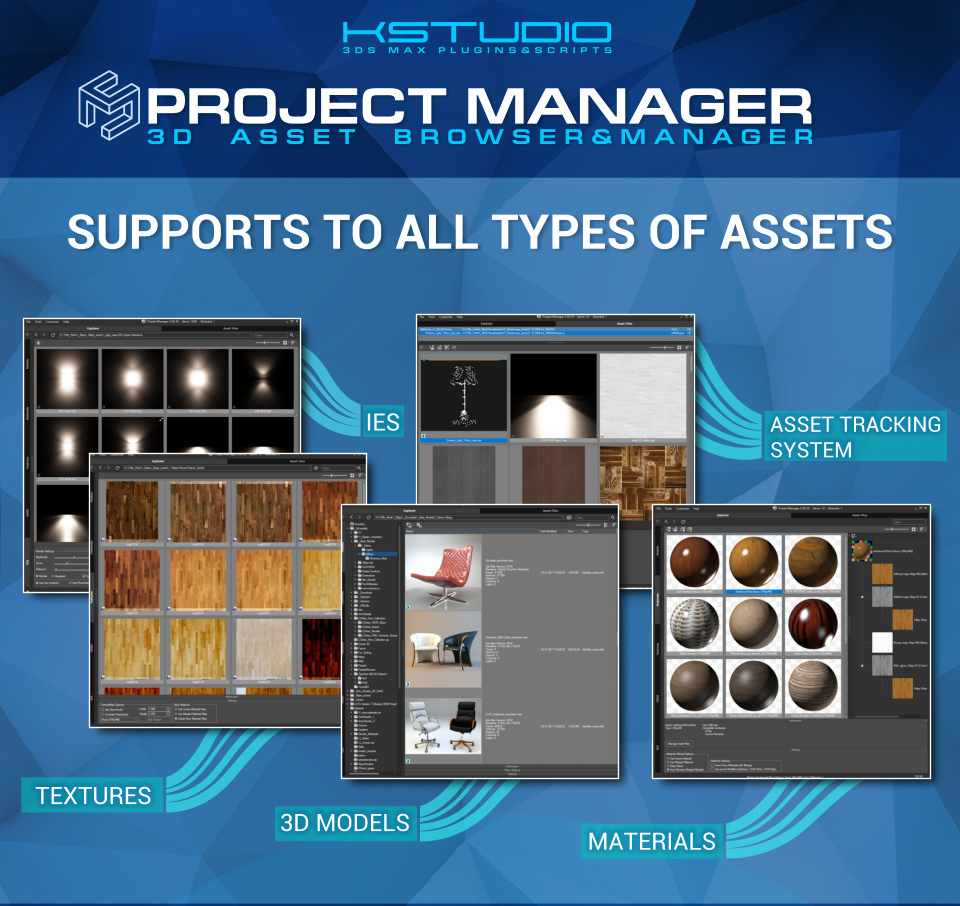 Version Requirement:
3ds Max 2014 and above